Pullboy 9XL for 1000mm Drawer | 74L | Orion Grey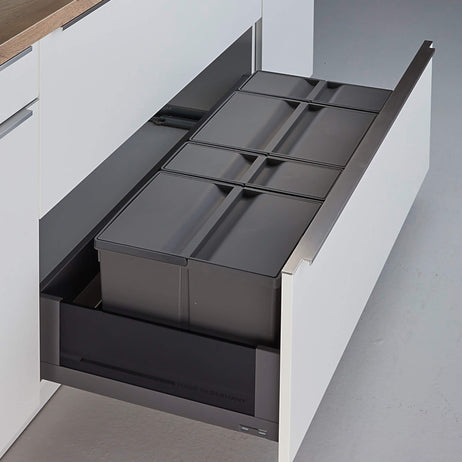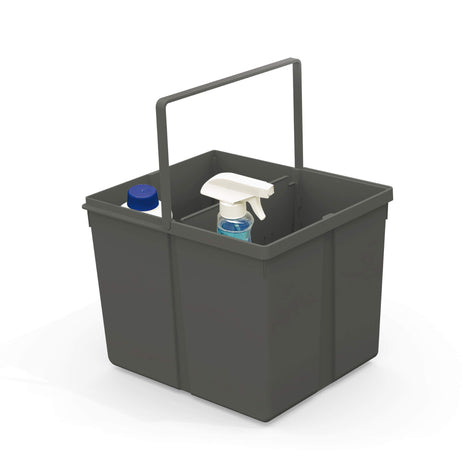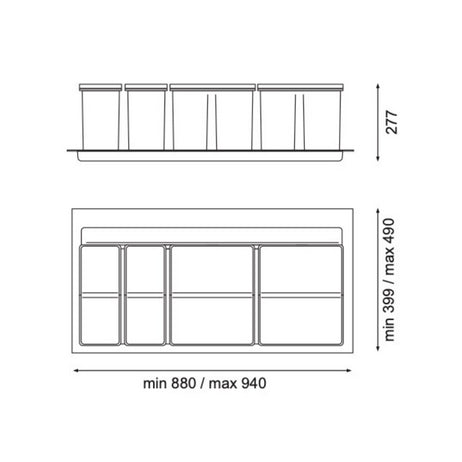 Product Information
Product Info
Drawers are now a major part of kitchen design. They look sleek and create a beautiful line within modern kitchen design, they also lend themselves to becoming fantastic recycling centres within the home.

The Pullboy Vario 9XL Pan Drawer recycling system from Wesco is a flexible system which can be placed within existing standard deep sided pan drawers.
This unit is designed to be used within a 1000mm wide drawer and comes with 4 compartments, 2 x 26L and 2 x 11L adding up to a total of 74 litres. Each individual compartment comes with sturdy double handles and individual lids which sit snuggly within, keeping odours at bay. There's even a handy space that runs down the back or the front of the bins for you to store bin liners, compostable liners and cleaning materials.
To keep each compartment steady and secure within the drawer a specially design tray sits along the bottom of the drawer, this can be removed for easy cleaning.
The tray can be cut to size as needed: 
Width 880-940mm
Depth 399-490mm
This System Comprises of:
2 x 26 Litre & 2 x 11 Litres
4 x Plastic Lids
1 x Plastic tray
Fits existing drawers with an external cabinet width of 1000mm
Built In Dimensions

(H) 277mm x (W) 880-940mm 

 

x (D) 399-490mm

Capacity


74L ( 2 x 26L & 2 x 11L  )


Minimum Cabinet Width


1000mm


Colour
Grey

Door Type
Pull-out Doors