Klassikline Slim | 19L | White/Cream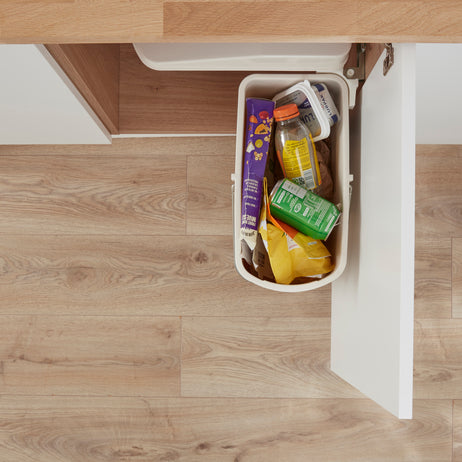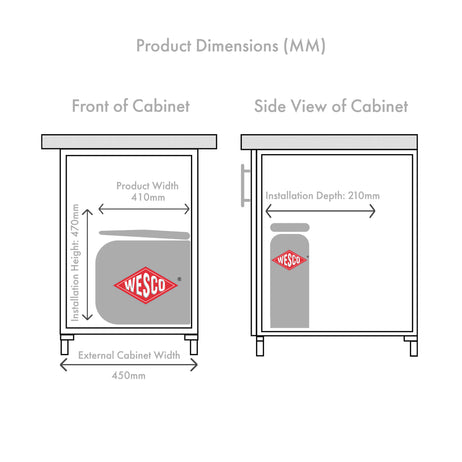 Product Information
Product Info
The Slim-Line 19L waste bin is a universal solution for cabinets 450mm wide and above with a hinged door. This bin can be fitted to either side of the cabinet and is not handed. It is a perfect solution for making use of the space beneath sinks due to its short depth of 210mm. (Ensure you check your dimensions before purchasing.)
The Slim-line waste bin comes with an easily removable plastic 19L inner bin, simple to empty and clean making it a hygienic waste solution.
Operation: The Slim-line waste bin automatically swings out as the cupboard door is opened. As the bin swings out of the cupboard the lid stays fixed within the cabinet making for easy access. When the cupboard door is closed the bin then sits beneath the lid snugly and contains any odours.
Upgrades: Should you wish to separate your waste, add the 5L inner caddy liner, this is a great solution for storing your compostable waste; keeping it out of site and off of your kitchen worktop. Please see the related products below.
Click here to view the fitting guide >>
Built In Dimensions

(H) 470mm x (W) 410mm 

x (D) 210mm

Capacity


19L


Minimum Cabinet Width


450mm


Colour
Cream / White
Door Type
Hinged Doors
I can't recommend the Wesco 'slimline' waste bin highly enough! We bought one 25 years ago and it worked brilliantly until this week when a piece of the lid broke off meaning the hinge mechanism didn't work properly. I was so pleased the product is still being made after all this time ( the sign of a good company and a great design) and fitted the new one using the old screw holes! They've even redesigned the hinge mechanism so the new version is unlikely to fail even after another 25years of constant use.
Strong sturdy metal swing bin mechanism not flimsy plastic like some. Weight hinges on the cabinet not the door which is a much better idea.
Bin is as I wanted. Fitting instructions are clear and there's a good template to mark screw holes BUT they assume your cupboard has a door which sits flush to side panel. My doors are 'in frame' so I've had to think carefully about how to fit it. I think I will end up putting some blocks on the side panel of the cupboard to fix h the he lid to.
See previous comment made
Perfect for our requirements, which was to have a built in bin inside a narrow cupboard.
Slim line bin that arrived well packaged and was easy to install - works perfectly
Perfect size for a cupboard under the sink and comes with clear instructions. The only thing that is puzzling is the black plastic clip for the back of the bottom hinge doesn?t stay on, although bin appears to be staying in place.
Great template for fit placemen. So easy to fit. Largest swing out bin I've seen that fitted under the sink to use that awkward bit of space brilliantly.
This product is terrible, for something that cost £85 it?s cheap Looking, the lid doesn?t close properly when shutting, there was a part that would not clip in the plastic was too thick I spent 1 hour trying to file the plastic bit So it would clip in. I?m very very disappointed with the product for the amount of money it cost! Do not waste money on this!!!
Excellent. Good quality product
Excellent quality and very functional!
Having installed this type before and seen it in use I expect it will be long lasting.
Fitting template and instructions in 3 languages not sufficiently clear and contain errors. Whilst most screws are provided, 2 are not for no apparent reason (although this is easily remedied). Instructions do not identify that the template only applies where the door closes on the outside of the cabinet. Our doors close flush within the cabbinet. I'm still struggling to find the perfect fitting positions.
The item was exactly as described and just what I wanted to replace a bin fitted in my kitchen over 30 years ago. I was so pleased to have found it.
Just what we wanted with limited space
Easy to use company website
This bin is easy to fit and does exactly what I needed it to.
Great product but fitting instructions were not very clear
VeRy highly recommended. Ideal as I cook a lot. Great lid.
Bin was to replace a like for like bin