Traditionline Big Bio-Double | 64L | Alu Grey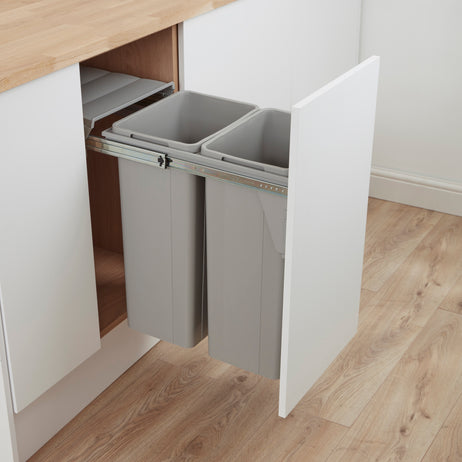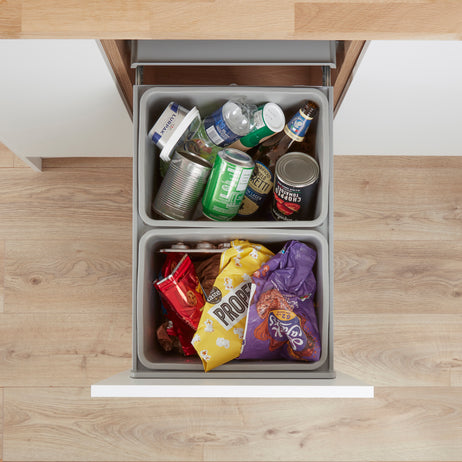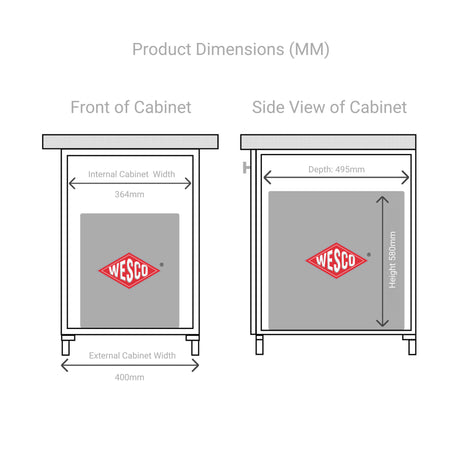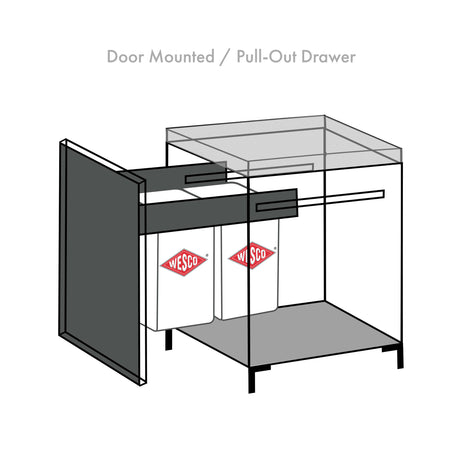 Product Information
Product Info
The Door Mounted Big Bio-Double 64L waste bin uses high quality full extension ball bearing runners. It is suitable for 400mm wide cabinets with a carcass thickness of 16-19mm. This bin system is fixed to the base of the cabinet in a frame with a front plate mounting the bin to the door front. 
Please note this bin does not have soft-close runners.

This bin is made up of 2 x 32L compartments that are perfect for separating and recycling household waste. They are made from plastic and are easily removable making waste removal and cleaning a breeze. Both 32L bin compartments sit beneath an odour trap lid, keeping any odours contained.
Operation: Using this bin is easy and simple, as the door is pulled out the bin compartments come out simultaneously. A gentle push will return the bin back inside the cabinet.
Upgrades: Individual grey plastic lids are available, these are ideal for sealing the individual bin compartments. (See related products below)
Click here to view the fitting guide >>
( Previous version of this was the 789611-85 / 789611 / 819) 
Built In Dimensions

(H) 580mm x (W) 364mm 

 

x (D) 485mm / Min 495mm Cabinet Depth

Capacity


64L ( 2 x 32L )


Minimum Cabinet Width


400mm


Colour
Grey
Door Type
Pull-out Doors
Compared to our old pull out bin we find this one a little stiff currently (hopefully it will loosen up) it was quite fiddly to put together. Good enough for what we needed. Would have been nice if each separate bin had a carrying handle.
Provides excellent bin storage with a Smooth runners system.
Good value for money, and product itself is pretty good. The door isn't super fixed to bin, I'd prefer something so secure it's rigid but it serves purpose sufficiently. We're intending to renovate our kitchen in a few years so hopefully we can make it fit more exactly then. Also, clearer instructions would be a plus.
Really good product just what we needed.
What it says on the item description
??????????????????????...
Installed on day of purchase works well
Great quality bins, very happy
Great bin but the I stay, whilst easy, was not helped by unclear instructions.
Great design but metallic areas have tarnished so perhaps not as high quality as price suggests.