Pullboy Z for Legrabox W60 | 53L | Orion Grey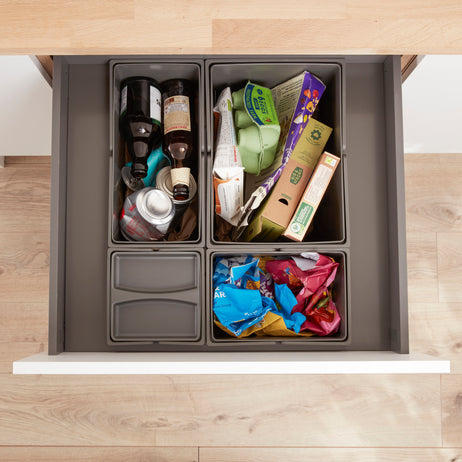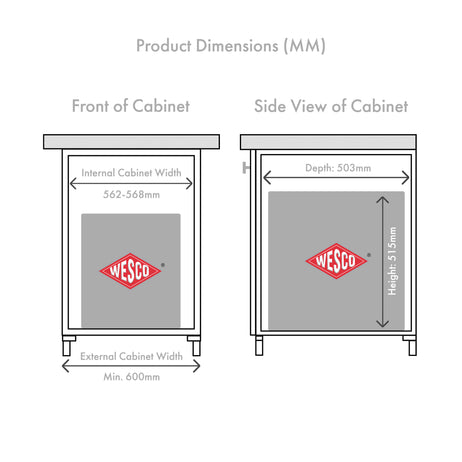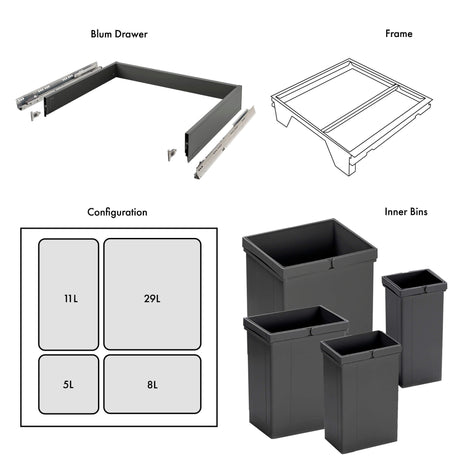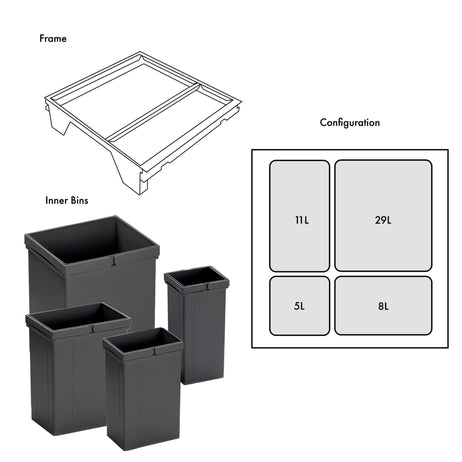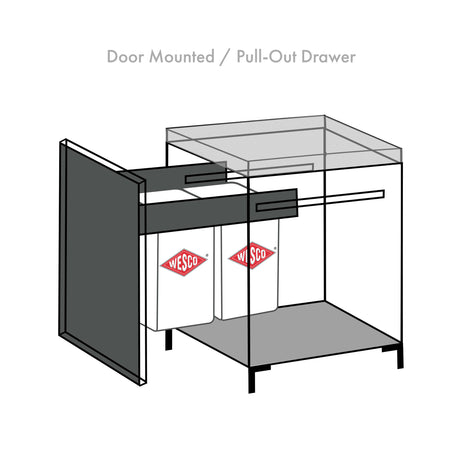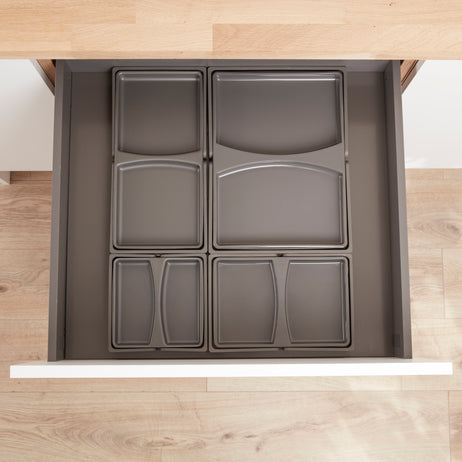 Product Information
Product Info
Pullboy Z Integrated Recycling Bin for Blum Legrabox Drawers - 600mm Door 53L (1 x 29L, 1 x 11L, 1 x 8L, 1 x 5L)
The Wesco Pullboy Z in-cupboard waste bin system offers the ultimate range of recycling 'built in bins' for Kitchens, workplaces and other applications.
With the Pullboy Z frame sitting within the Blum Legrabox drawer this bin system has been upgraded in looks and feel. Experience Elegance in your home, with its clear contours, parallel drawer side design and accent lines. It is simply stunning! It also comes with super smooth, strong runners that effortlessly soft-close.
About:

This 58 Litre version is made up to 1 x 29L, 1 x 11L, 1 x 8L & 1 x 5L inner bins with sturdy double plastic handles, making for ease of cleaning and removal of waste. It is suitable for 600mm wide cabinets based on 16-19mm thick carcass walls.
Please Note: This waste bin system requires the addition of a 600mm wide Blum Legrabox drawer for it to be installed. If you don't already have this installed, choose from the drop down options to purchase this bin system including or excluding the drawer.
Operation: The Pullboy Z bin system is mounted to the cabinet door, as the door is pulled out the bin compartments come out simultaneously. Each inner bin comes with its own individual lid to prevent smells from escaping.
Upgrades:
Why not add some technology with the Blum Servo-Drive Uno for effortless electronic opening Click here >>
This Pullboy Z comprises of:
1 x Steel Frame 
1 x 29L, 1 x 11L, 1 x 8L, 1 x 5L Inner Plastic Bins with Double Plastic Handles in Orion Grey
1 x 29L, 1 x 11L, 1 x 8L, 1 x 5L Lids for inner bins
1 x Fixing Bracket Set for Slab Doors
To assemble this bin system some DIY skill will be required.
Click here to view the fitting guide >>
Built In Dimensions

(H) 515mm x (W) 563-568mm

 

x (D) 503mm

Capacity


53L (1 x 29L, 1 x 11L, 1 x 8L, 1 x 5L)


Minimum Cabinet Width


600mm


Colour
Orion Grey

Door Type
Pull-out Doors