Bacofoil Elasti-fit Bin Liner 50L (10 Bags)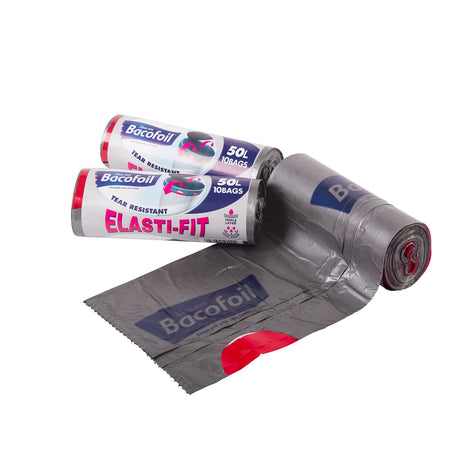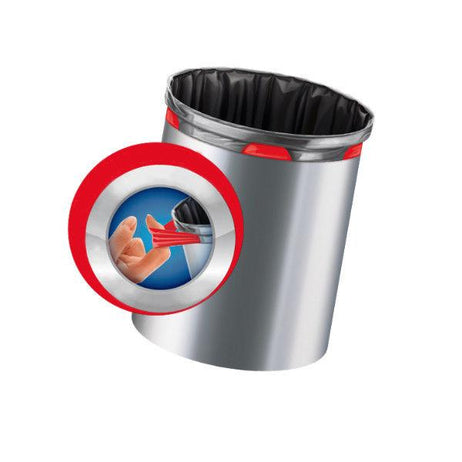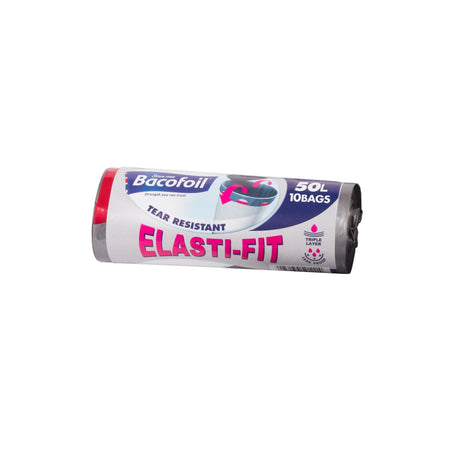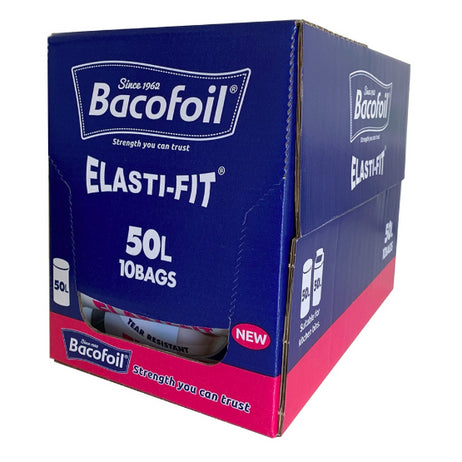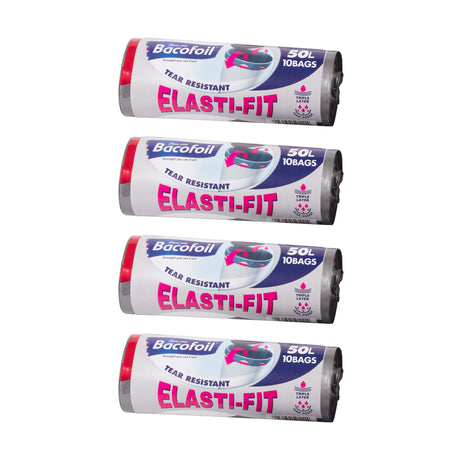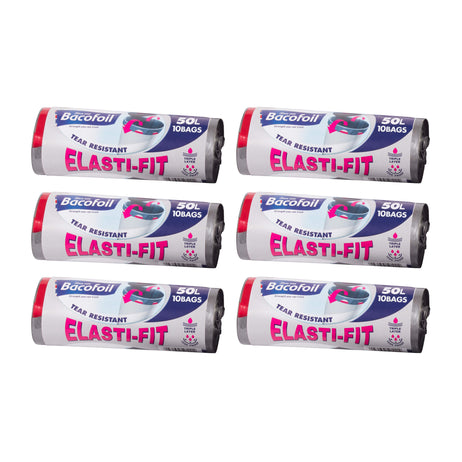 Product Information
Product Info
Bacofoil Elasti-fit Bin Liners 50L - 1 Roll is made up of 10 bin liners.
Put an end to your bin liners coming loose and slipping down the bin and making a mess!
The Bacofoil Elasti-fit bin liners have an integrated fixing cord which grips the liner in the correct position around the edge of the bin. When removing the liner from the bin, simply use the fixing cord to pull the liner closed, this then becomes a very handy carrying handle.
It's a no mess, quick, easy to use and reliable bin bag. They are suitable to be used in many family sized waste bins.
These elastic fixing bin liners are a real help in the home they are tear-proof, waterproof and quickly fixed in place with a strong hold that doesn't slip.
Want to know which size liner is for your bin? Click here >>
Features:
Tear-proof
Waterproof
Anit-slip
Pull cord 
Click here to view the video on how they work >>
Specification:
| | |
| --- | --- |
| Bag Width  | 680mm |
| Bag Height  | 730mm |
| Colour | Black Inside, Silver outside |
| Capacity  | 50L  |
I have come to that age. You know the age when bin bags matter to me. How did that happen? The Elastifit bag is a wonder. No seriously. It fits my bin to perfection and allows you to fill it wit the confidence it won't let you down. They rarely leak and when you remember to tie them correctly tie well. It's the little ties btw. These bin bags are clearly better than the competition by miles. Revel in the feeling of warmth and smugness as you view your neighbours bags strewn across the road by the local wildlife on bin day. Yes these bags are expensive so make your choice. Are you worth it?
Very good fit dose not slip in bin much more easy to get out
Very good. Fits perfectly with my new bin
I never thought there was such a thing as a cool bin bag.....until now! I have to say these space age beauties are very strong, don't ever leak and tie well. Worth the effort of purchasing separately from your usual shop!
It seems odd to wax lyrical about bin liners, but these are truly life-changing! The elastic top means they fit easily but snugly. And I've never had one split on me. They're simply brilliant :-)
A perfect liner for fitted rubbish bins from Wesco, elasticated tops so seal perfectly on the bin.
The best bin bags I've ever had. Fit any bin shape and fit tightly
Fab product that fits an awkward shaped bin!
Very strong and with elastic top making it a secure fitting bin liner
These bin liners don?t tear when you stretch them to fit round your bin. Excellent product.
Great fit to big boy waste bin
Prompt and efficient. Bin liners are perfect for the size of my bin.
These bin liners fit my in cupboard bin and are strong and practical
Great, feels like they will break when you stretch them but they don?t. Perfect fit and good quality.
Excellent bags for my new kitchen bin!